The Artist's Journey. . .
---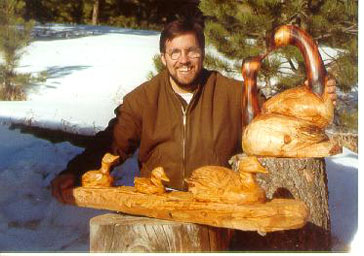 Lueb Popoff lives with his wife, Annie, on a ranch nestled in the foothills of the Rocky Mountains west of Boulder, Colorado. Their historic log home, built in June, 1923 as a hiking lodge by University of Colorado faculty and students, is the focus of their life and creativity. With no formal training, Lueb has illustrated several books, and created artwork for business logos and advertising.
A native Coloradan, Lueb was born in Boulder in 1960. His family moved to Cleveland in 1961, and settled in Deerfield, Illinois in 1965. When he was eight years old, his third grade teacher sent a note home to his parents encouraging them to send Lueb to the Art Institute in Chicago. He had a gift. For some long forgotten reason, Lueb's artistic talents were lost among other boyhood interests and activities.
After receiving a B.A. degree in Molecular Biology from the University of Colorado in 1984, Lueb chose a cooking career. He was apprentice to Luc Meyer at The Left Bank Restaurant in Vail for two years. He returned to Boulder to take a position as Sous Chef at John's Restaurant, and six years later became the Sous Chef at the Flagstaff House.
One day in 1995, Lueb happened to see a chainsaw carving of a bear and a raccoon outside a café in Niwot, Colorado. He had three chainsaws at home that he used for logging, and thought it might be fun to cut something other than firewood. The following Christmas he was given a video of the famous Minnesotan chainsaw carver, Jerry Farber. This sparked renewed interest but it wasn't until December of 1997 that he created his first carving. In the spring of 2000, he left the cooking world to start Hollow Log Tree Carving and Sculpture with his wife, Annie.
For fourteen years, Lueb was a regular at the Boulder Farmers' Market. Each Saturday, from April to November, he made countless friends who were very supportive of his artistry. Today, he is very busy in his workshop or traveling the Front Range carving trees in yards, on golf courses and at public venues.